INTRODUCTION
We are Dear Loving.
This year we have been around 27 years since we formed this band together as childhood friends. We're serious about our music, but we're also laughing and doing stupid things together, we feel we're in a band all together! We can't give you a simple explanation of our 27 years of existence, so please come to our lives to see us!

We also didn't change our band-lineup in all those years which is pretty unique.
Vo.MASA☆ writes realistic lyrics of the theme "life, live" and one-of-a-kind songs which only can be performed by a band that has walked in various scenes such as visual, pop and rock. Dear Loving messages can bring the audience to tears, also they have gained the support of a wide range of audience, regardless of age or gender.
– Do you consider yourself as a visual kei band?
We used to be in the visual kei scene, so I know that visual kei are somewhat obsessed with makeup and costumes, but now we can't really say that we are a visual kei band. However we don't really care about those things at all. (smile)
However we are aware that if someone looks at our artist photos that they would say "Dear Loving is a visual kei band". Yet we don't have any particular obsession with the genre, we are fine with anything we do. Oh! We haven't been called this anymore, but it would be nice if you would think of us as "the last soft visual kei band". (laugh)
BIOGRAPHY
Dear Loving was formed in summer 1993, Hirakata, Osaka Prefecture.
When the members were in their third year of junior high school the vocalist MASA☆ said "I want to sing, so why won't you guys buy some instrument and let's practice?!"
When vo.MASA☆ was in the 6th grade he was a yankee, he went to the elementary school next door to make some heisa, and guitarist YUKI was the first person who he tied up and so both became friends. (laugh)
Highlights
2009 Major debut at "Victor"
2011 They regularly hold charity concerts to raise money for "guide dogs for the blind" and support for children in an orphanage in Bali.
2012 Guest appearance at the "Japan Expo" held in France.
2017 Won the "L1 Grand Prix", a competition to determine the best live performance in Japan.
– Because of the band catchy songs they are loved to use as melodies for TV-programs and commercials. In Kansai a song is the theme song for the Yodogawa Fireworks Festival.
– Gu.Yuki's comedy-filled MCs that only a Kansai person can provide (more than 150 songs) have been reported in various media as "beyond the realm of a musician". Gu.Yuki made it to the quarterfinals of the "R-1 Grand Prix", a competition to determine the best pin-up comedian in Japan, and performed at NGK, a Hall of Fame for Laughter, surrounded by big-name comedians, which was picked up by many internet news outlets.
MEET THE MEMBERS
MEMBERS
Vo.MASA☆
Gu.YUKI
Ba.KURO
Ex-MEMBER
Dr.TAKUYA
Vo.MASA☆
– Real Gian
Creating all songs, video production, creating pin-up MC's.
A multi-talented leader who uses his talent to produce a band.
Gt. YUKI
– Japan's most interesting guitarist
"The most interesting guitarist in Japan" He has made it to the quarterfinals of the "R-1 Grand Prix", a competition to determine the best pin-up comedian in Japan, and has performed at NGK, where he was surrounded by some of the biggest names in the comedy world.
Ba. KURO
– Passing through nature
A guy who doesn't age but keeps on looking gorgeous and pretty, yet he is a bassist that plays his bass amazing with his superb techniques. He is also a super driver who always drives "Dear Loving" around Japan while touring around.
BANDNAME ORIGIN & MEANING
Origin: When we were in junior high school, we only knew the words Dear and Love. In English class we were just learning about the progressive tense, so we changed Love to "ing" and it felt really cool to us in junior high school, so we decided to change it to Dear Loving. Nowadays, we are much more fluent in English so we feel ashamed of this name (laughs).
Meaning: Love to your dear ones.
CONCEPT
We are singing with the theme of "being alive".
We play music that conveys mostly lyrics, so we have a wide range of arrangements in various melodies such as pops, rock, ballads, and anime songs. For that reason we are a band that is like a toy-box turned upside down. The band image changes depending on the music.
COMMENT
Our appeal is that our songs are super amazing and our MC's are super funny, so please come to our lives to experience it yourself. ♪
RELEASE
2006/06/07 『生きること、歌うこと』
When we already left the visual kei scene, we finally released our 1st ALBUM in the pop scene.
2008/08/12 『ポジポッケスト』
This is a compilation of all the songs from the indie era. It also includes キミイロストーリー」 which is our fans favorite indie song.
2009/07/29 『キミニハネ』
Our Debut Album. This album is "Dear Loving" started as a message band. Our debut song "Fly high" is a song we want to embrace forever.
2010/09/01 『イマココニアイ』
Our songs included only messages, various love songs were included because we didn't have many love songs.
2013/05/15 『その手に未来を』
This album was the beginning of our 3 member era, since our drummer who had been with us for 18 years left the band. Because the string corps remained this album was one of the first that triggered us to start to be more like a rock band.
2014/08/14日 『365のメッセージ』

Includes one of our most popular songs "365". It also contains powerful songs such as "flower", "春〜青のキセキ〜" and "あなたがいなくなる前に"
2016/08/10 『DOOR』

This is an album that feels like a beyond the wall response for us. Many of the songs are lively and strong, and the title track "Door" is an important song to listen to, especially if you have trouble with relationships that don't go well.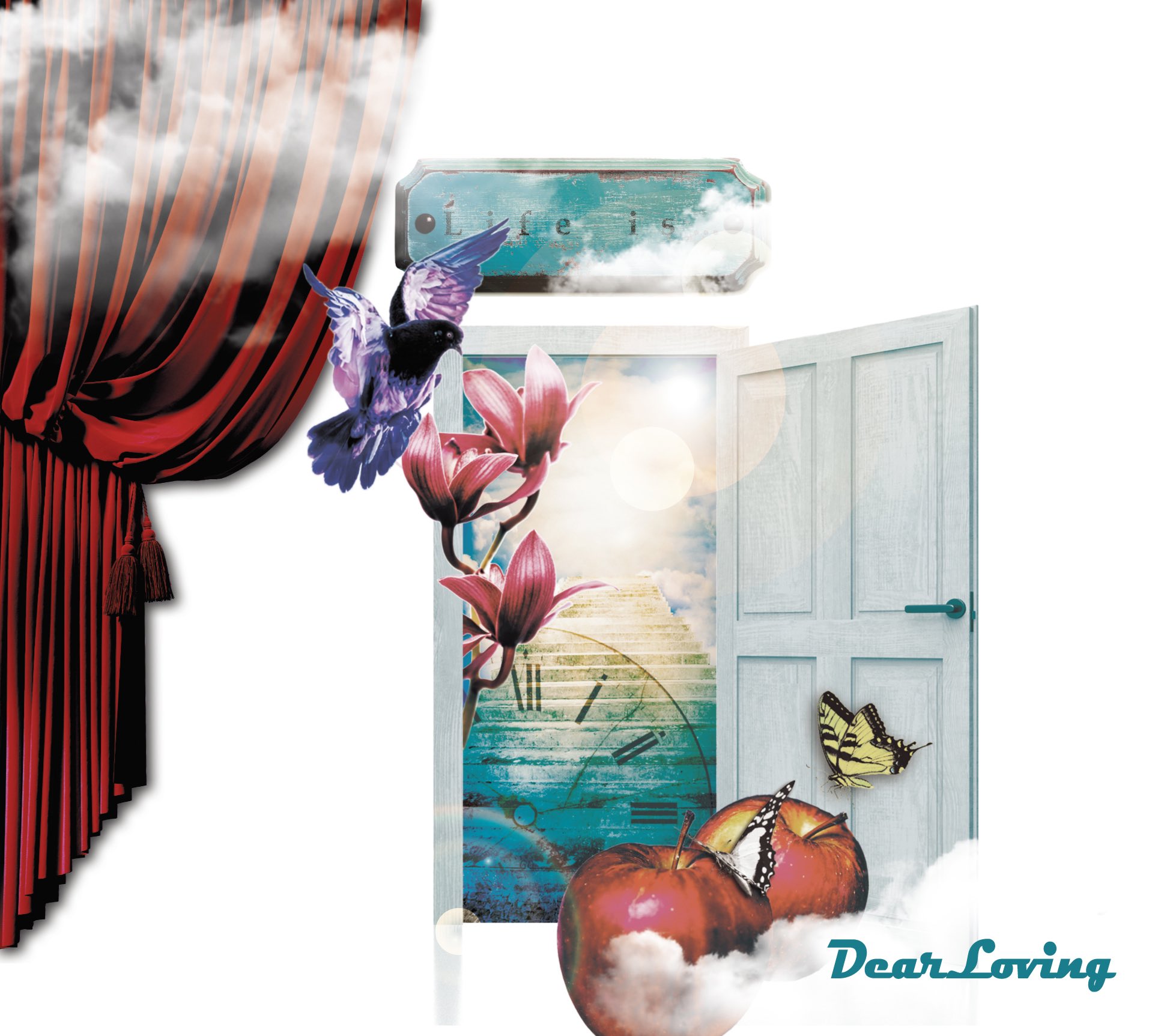 2019/04/05 『Life is…』
Dear Loving's masterpiece at this stage, which has been chanting as "the latest is the best"! The sequel to the previous work "Door", 「なりたい自分に私はなる」 is worth a listen too!
『Life is…』SELF-LINER-NOTES
1.なりたい自分に私はなる
It's the story of the continuation of the song, "Door" which is on our previous album.
Even if you take the courage to open the door and step forward, the world will not change suddenly, this song sings about your determination to become yourself. It is the representative song of today.
2.贖罪
The guitar riff in the intro is the coolest part of the song.
It is an emotional song about the redemption of the past.
3.GIANT KILLING
This is a live groove baby rock number that explodes on stage.
It's a rock song with a catchy melody and a sense of majorness.
4.Period
With sad lyrics and a wistful melody that depicts feelings for a lover that you'll never see again, this song is a trend from Dear Loving's indie days.
5.あなたの大切な人は、僕の大切な人
It's about the girl of the song of Period, drawn from the perspective of a lover she met after her first lover passed about. It's a song about a letter which she wrote to her current boyfriend, which she actually also wrote to her ex-boyfriend in heaven.
6.神様でも天使でもない
The guitar riff and the intense drumming in the intro are also appealing in this song.
The theme of the song is that nobody is perfect, so I wrote lyrics based on that in mind, hopefully it helps people to understand that nobody is perfect.
7.XXX ~どうでもええけど~
The bass slap in the intro is just so cool.
You can hear KURO's amazing bass technique in this song.
The lyrics are about the annoying people in the industry.
DouBtS
This song also features a bass-line.
The nihilistic lyrics that expose the lies in the world are very impressive.
9.天国に一番近い人
The song is a ballad with the message about the love you want to give to your loved ones. It's the key song of this album.
10.キミに捧ぐ唄
As we celebrate our 25th anniversary, this song is a straightforward portrayal of the joy of being able to sing for a long time and the struggle to make your dream come true.
This song is the one that touches us the most when we listen to it.
11.TOMORROW あいのうた
I decided to write a lyric based on what I could reply to a letter that I received from a fan. "We will be together again tomorrow". This song has such a promise inside.
SNS
Website
Webshop
Twitcast
Blog
Twitter (band)
Twitter (staff)
Youtube
LINE
Twitter Masa☆
Twitter Kuro
Twitter Yuki